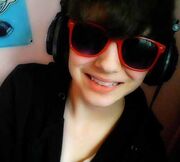 Stacey T. Hunt is the author of Game of Nightmares, as well as the World of Many Colors trilogy and the Cascade Adventures Saga. She was born on April 18, 1997, and raised in British Columbia, Canada, where she drew inspiration for becoming a writer from her dad, author Robert A. Hunt. She still lives in British Columbia. The Adventure Begins of the Cascade Adventures Saga is her YA Science Fiction debut. Most of her early inspiration came from the video game Kingdom Hearts. For more on Stacey, check out her Blog.
Contact/Social Media
Edit
You can find Stacey T. Hunt all over the web:
Ad blocker interference detected!
Wikia is a free-to-use site that makes money from advertising. We have a modified experience for viewers using ad blockers

Wikia is not accessible if you've made further modifications. Remove the custom ad blocker rule(s) and the page will load as expected.